Sports Turf
Big Roll Sod Installation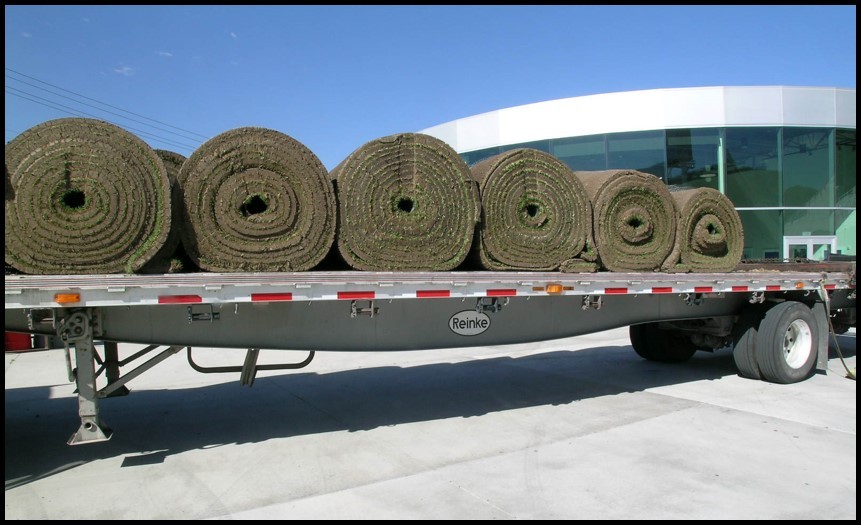 Do you have a large area home lawn, athletic field or golf course to make green?
Big-Roll sod from JB Instant Lawn can provide you with a more efficient, higher quality installation as well as faster usability. If you are a golf course owner/superintendent and you are concerned about keeping the rounds played at a max level during your renovation then big-roll is the answer.
Efficient Installation
Since installation equipment does the lifting and placement of the sod and JB trained crews provide the labor, Big Roll saves you time and money. An experienced crew of four can install up to 50,000 square feet in a day.
Quality Installation
Big Roll provides a smoother surface and fewer edges to dry out since there are fewer seams than with small rolls. With faster installation comes the benefit of being able to apply water more quickly thus cutting possible stress to the turf.
Faster Utilization
Because of the size and weight of the Big-Roll, the sod stays in place and is ready to use more quickly than with any other turf installation methods. If you need super fast usability, JB Instant Lawn can cut and install thicker rolls to provide a perfect surface for immediate playability.
Please give JB Instant Lawn a call for quote. 1-800-527-1439
Consulting
We enjoy passing on the expertise that we have learned about grass, especially when it needs to meet the high use demands of today's world class soccer stadiums or world class golf courses. Maybe you need some initial consulting on the best way to seed or sod an athletic field or golf-course. Maybe you would like us to have a more intricate role and be in charge of the grow-in process. Whatever the case, you can be assured that our team of seasoned experts will make sure your project is done on time and to your specifications.
Renovations
If your golf course or athletic field is in need of a tune-up let JB Instant Lawn help you. We realize that you want to have your facility up and running in the quickest amount of time possible. We have the necessary equipment to remove the old grass, roll it up and dispose of it as well as lay your new beautiful field back down.